Come one, come all, it's time for the Autumn 2015 Skirt Awards ceremony.  We know you've been waiting, we know you've been watching the skirts go by, and now it's time to announce the winners.  Quiet down everyone, you don't want to miss these amaaaaaaazing skirts!
Best Woven Skirt
The Best Woven skirt award is always a hotly contested award, but this time, a clear winner emerged with Karyn of Make Something.  Her pattern mixing, fabric choices and pattern all deserve an extra round of applause.  Here's your badge, Karyn.
Best Skirt Tutorial
We think an award winning skirt tutorial should be fast, cute, easy, and well illustrated.  Kylie's 20 minute skirt tutorial fits all those items purrrrfectly!  Kylie, please take this well deserved badge.
Best New Pattern
When it comes to skirt patterns, you might say we've seen (and we're sewing) them all.  But when the Camellia Skirt from Magdalena Langa sashayed across the stage, we couldn't help but give it a standing ovation.  And, of course, a badge.
Best Knit Skirt
When Mandy, of Sugar Bee Crafts, makes a knit pencil skirt this good, it would ALMOST be pardonable to find out where she lives and steal it!  We have a proposal for you Mandy, how about we trade you this badge for that skirt?
Best Maxi Skirt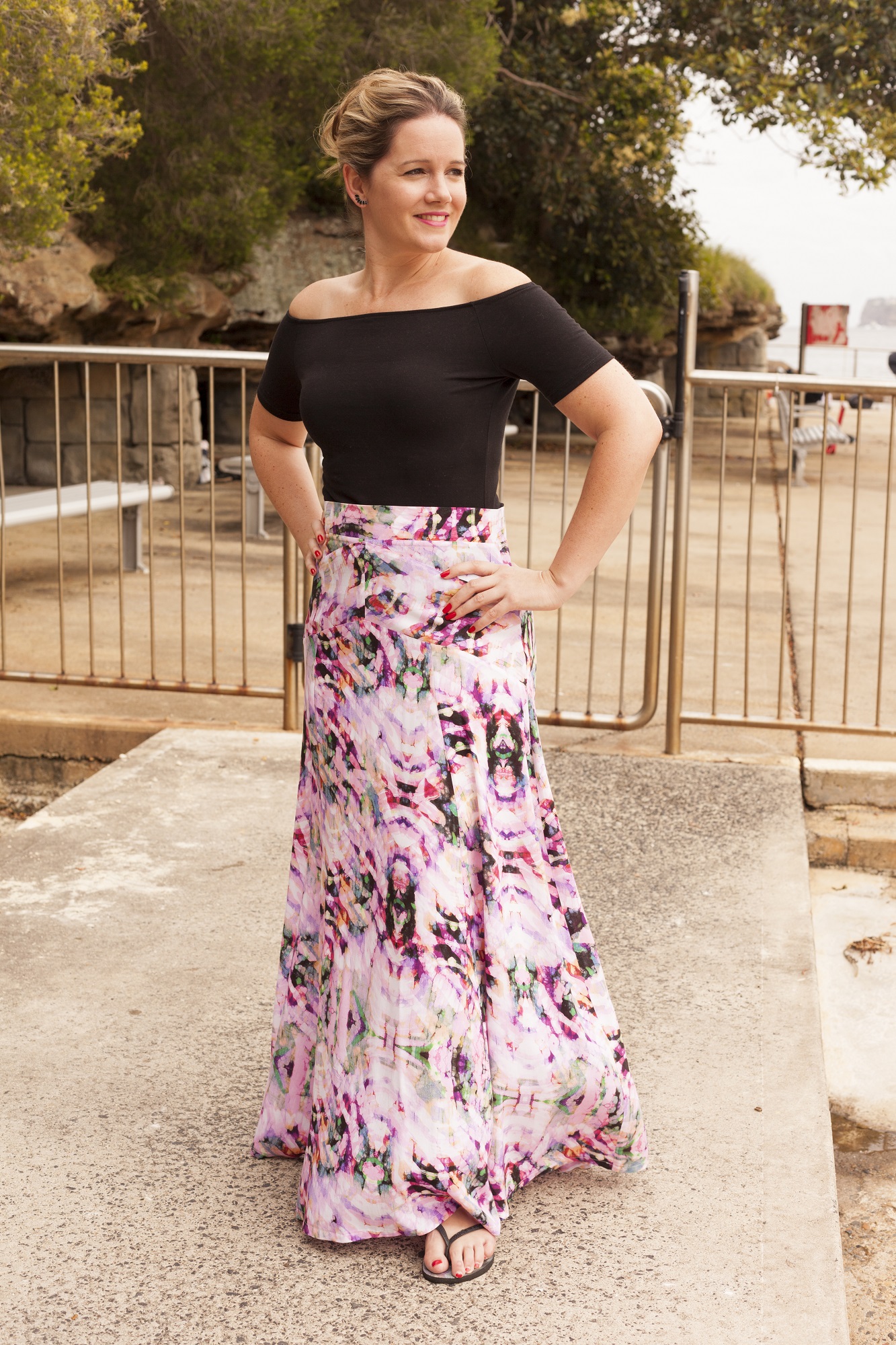 We have a few favorite maxi skirt patterns, and we really take notice when others sew them too.  So this Gabriola maxi skirt by Bec from Bobbin and Baste completely bowled us over!  Bec, waltz up here for your badge and give us a curtsy in that fabulous skirt!
Best Little Skirt
This season's Best Little Skirt award probably couldn't make us any happier.  That's because we get to award this badge to our good friend Michelle from Falafel and the Bee for the cute Abilene Skirt she sewed.  Check out all those fantastic details.
Most Creative Skirt
Michelle, of That Black Chic, deserves the lifetime award for Most Creative Skirt with this fantastic skirt.  She took a fantastic pattern and made everyone speechless with her handiwork.  Do NOT miss the lining on this skirt, by the way.  And the matching boots.  Please accept this badge we humbly offer you!
Most Fun Skirt
Jess, of The Sewing Rabbit, is calling this on Mom of the Year Skirt.  And we're calling it the Most Fun Skirt.  Whatever you want to call it, it's earned this badge.  With all the recent Star Wars craze, every little girl (and big ones too) will be clamoring for one of these!  (And Jess has a tutorial so every girl can!)
Best Skirt Refashion
The kind of skirt we probably saw the most of this season was skirt refashions.  But one stood out above the rest.  Melissa, from Trevor Loves Mommy, this refashion is one for the history books!  Right on the same page as this well deserved badge.
Fancy Skirt Award
We always notice when Madalynne sews a skirt, and so does everyone else.  But this skirt…Oooh La La!  This skirt is for the holidays and beyond.  It doesn't get much fancier than this fancy skirt, so here's your badge, Maddy!
Best Fall Skirt
Dear Trine, (of Groovy Baby and Mama), you have timeless skirt style.  The End.  (except for this badge, please accept!)  Love, Us!
Let's have another round of applause for all our skirt award recipients!  If you've won a badge today, just right click to take it home with you.  Keep your eyes peeled for possible skirts to nominate, and leave us the link below.  We'll see you in the spring for the Winter Skirt Awards ceremony.